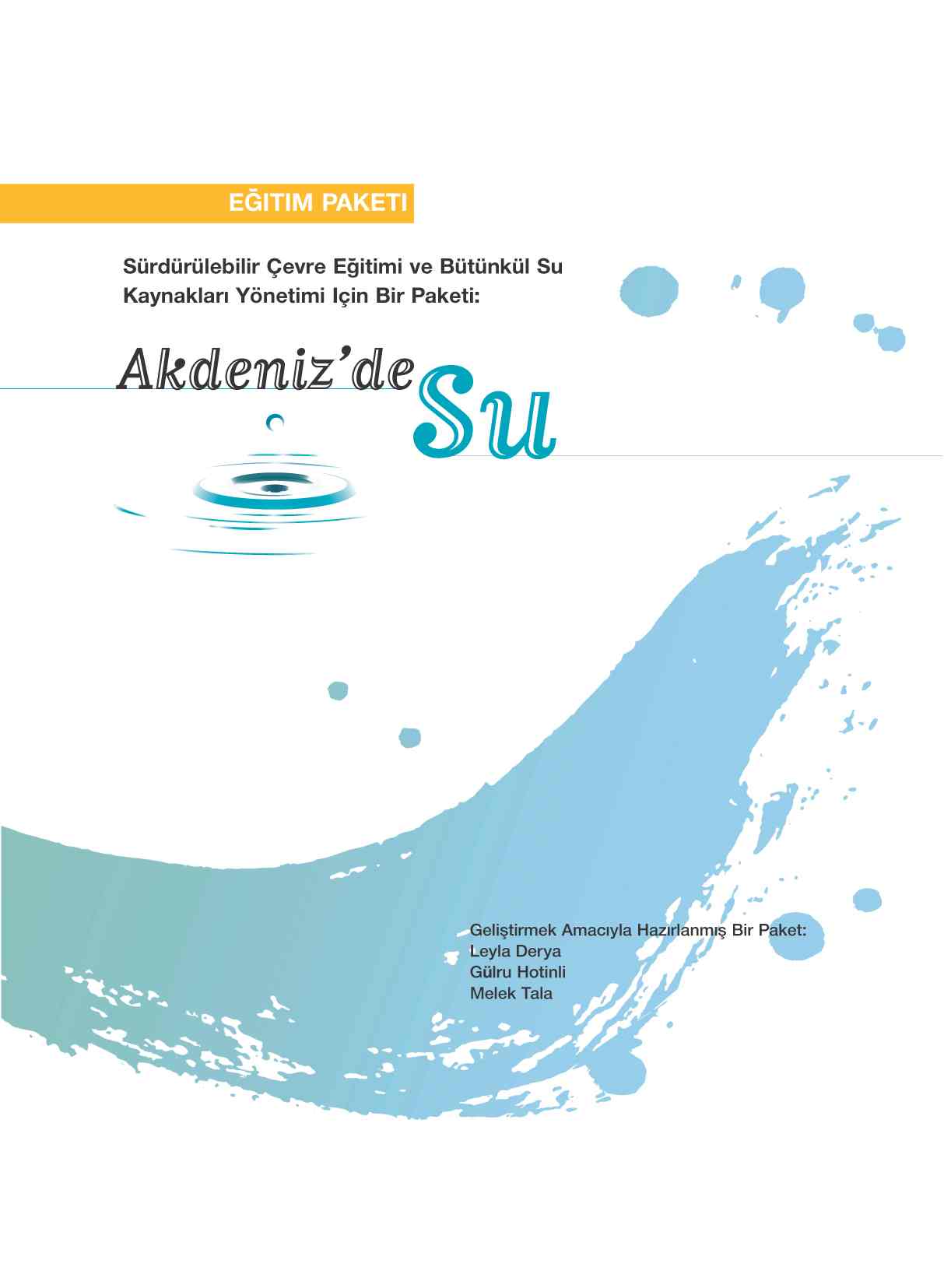 EĞİTİM PAKETİNİN KISA HİKAYESİ

/BRIEF HISTORY OF THE PACKAGE

"Akdenizde Su" kitabının tamamlanmış ilk hali İngilizceydi ve 2002 yılında basıldı. Kuram ve etkinlikler olmak üzere 2 bölümden oluşan kitap 6-10.sınıf öğrenci ve öğretmenlerine destek olmayı hedeflemiştir.
Türkçe çevirisi yine aynı yıl, 2002 de gerçekleştirildi ve 2002-2007 arasında sadece elektronik ortamda kullanıma açıldı. Ekim 2004?de İstanbul?da bir toplantı ile elektronik ortamda kullanılabilirliği tanıtıldı. 2007 Aralıkayında "Yeşil Adımlar Çevre Eğitim Derneği" nin çabaları meyve verdi ve kitap halinde baskısı mümkün oldu ve bir kitap tanıtım toplantısı ile duyurusu yapıldı.
The original English version of "Water in the Mediterraneanan" educational material with theory and activities, aiming to support the work of teachers and students of secondary level throughout the Mediterranean region was published in 2002.
The Turkish translation of the package has been completed already in 2002 and during the first phase (2002-2007) "Akdeniz?de su" was only available in electronic form. This e-publication had been officially launched in Istanbul in October 2004. In December 2007 the efforts of the stuff of "Green Steps for Environmental Literacy" bare fruits and the hardcopy publication was made possible. The publication was launched in December 2007.


TÜRKÇE EĞİTİM PAKETİ ELEKTRONİK ORTAMDA NASIL KULLANILABİLİR (PDF Files, 3.71 MB)
DOWNLOAD THE TURKISH WATER KIT


CONTENTS
i) Birinci Bolum Kuram (the theoretic part of the material)
ii) Bolum Deneyler ve Calismalar (Activities part of the material)
_ _ _ 1. SU HER YERDE
_ _ _ 2. SUYUN BENZERSÝZ ÖZELLÝKLERÝ
_ _ _ 3. BÝR SU DAMLASININ ÖYKÜSÜ: SU DÖNGÜSÜ
_ _ _ 4. ÝÇME SUYUMUZ
_ _ _ 5. SU VE
_ _ _ 6. EVÝMÝZDEKÝ SU
_ _ _ 7. SU, TOPRAK VE TARIM
_ _ _ 8. SU, ENERJÝ VE SANAYÝ
_ _ _ 9. SULAK ALANLAR
_ _ _ 10. EKLER
iii) Annexes & Acknowledgements


TÜRKÇE EĞİTİM PAKETİ ELEKTRONİK ORTAMDA NASIL KULLANILABİLİR (PDF Files, 3.71 MB)
DAHA FAZLA BILGI ICIN

İngilizce olarak info@medies.net adresine
On the network, the webpage function etc: info@medies.net

Türkçe olarak yesiladimlar@gmail.com adresine başvurabilirsiniz
On the material in Turkish and how to obtain them: yesiladimlar@gmail.com