The authors team
---
The handbook has the following structure:
Chapter A: where the necessary general theoretical framework is presented. It starts with an overview of the evolution of environmental education towards education for sustainable development, including its components and perspectives for the 21 st century, as they emerge from the different, but closely related movements and initiatives. In addition, theoretical and research issues regarding the responsible environmental behaviour are presented. The constructivism theory is analysed as the contemporary context for the better interpretation of the learning processes, its links with EE and ESD, as well as the educator\'s role in students\' learning within the above contexts (constructivist and ESD learning approaches). The chapter closes with a brief presentation of the general teaching model, which is compatible to all educational levels.
Chapter B: provides the necessary theoretical framework on the methods used in EE, EfES and ESD. Thus, the chapter presents various studies exploring: which methods teachers use and why ; the factors that influence the choice of a method, with an emphasis on the learning objectives. The current trends and characteristics of the ESD methodological approaches are also presented. Reference is also made to cooperative learning and group work , since they are strongly recommended and commonly used within the implementation of EE, EfES and ESD programmes and activities.
Chapter C: explores how the various teaching methods could be implemented, trying to highlight some "risky" points in each one rather than addressing all the possible ways for their implementation. The basic theoretical and practical characteristics of methods, as well as indicative ways of their implementation are elaborated, using as examples activities from the educational package "Water in the Mediterranean ". The methods that are presented are, namely: various techniques of discussions, concept mapping, bibliographic research, experiments, analogies and models, simulation methods including case studies, role-playing games, computer simulation and other games; surveys, field teaching and field research. The last subchapter addresses the use of educational kits as important teaching and learning tools within ESD Programmes.
Chapter D: addresses the two widely used methodologies of EE, EfES and ESD: problem-solving and projects , also known as umbrella methods. These methodologies offer important frameworks that can include and integrate the various methods analysed in Part C. The chapter closes by presenting the ways by which a particular topic, the one of the "water cycle", could be implemented using the different methods elaborated in the previous paragraphs.
---
Copy of the book In ENGLISH (PDF, 2.3 MB)
Copy of the book In FRENCH (PDF, 1.9 MB)
Copy of the book In ARABIC(PDF, 17.5 MB)
---
CONTENTS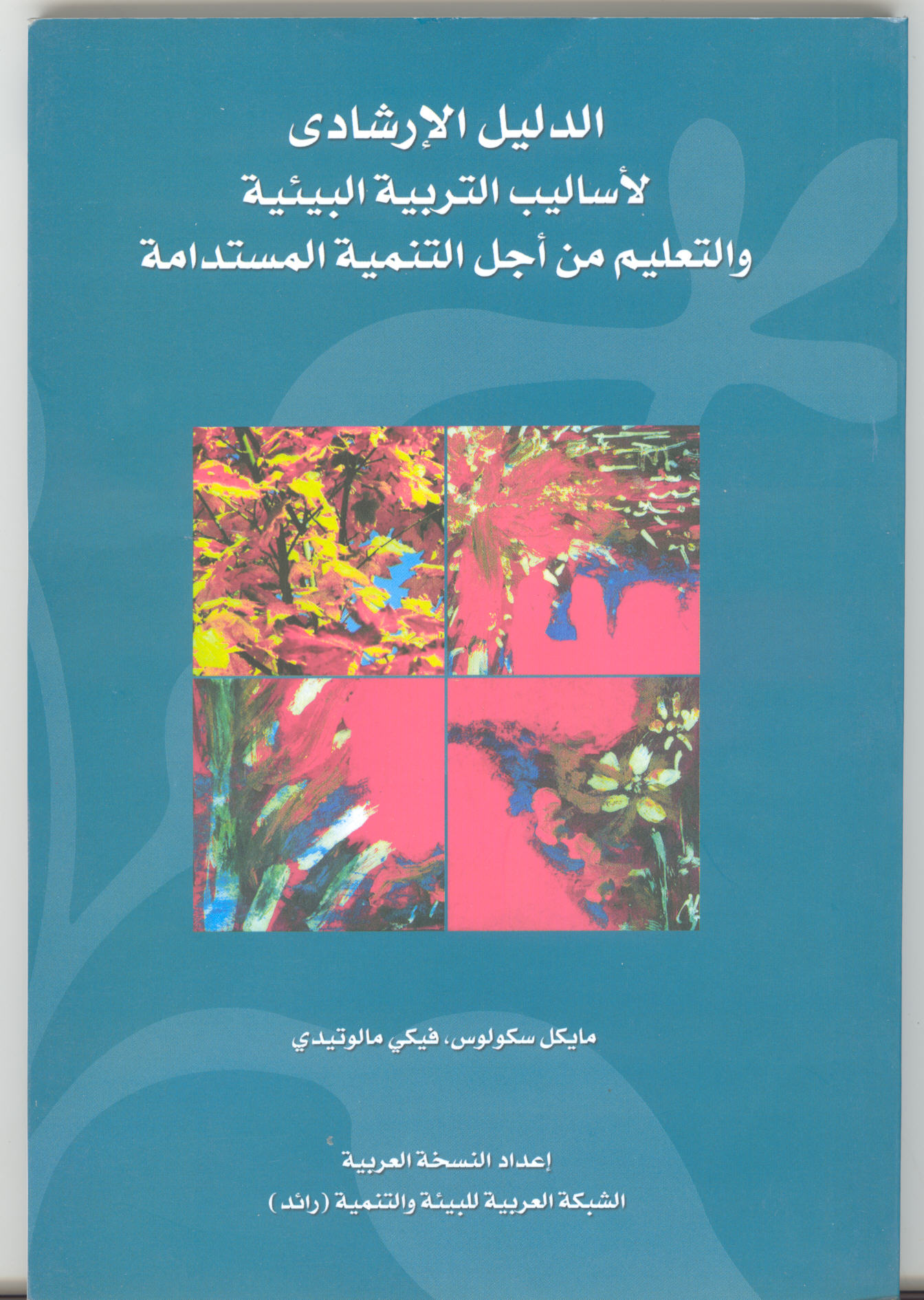 Contents - Table des Matières
Introduction
Chapter A – Chapitre A
Preamble – Avant propos
A.1.a Environmental Education and Sustainable Development: common origins, parallel paths, meeting points - what is the way forward?
LΆEducation à lΆEnvironnement et le Développement Durable:
Origines communes, voies parallèles, points de convergence - Quel futur?
A.1 b A graphic representation of the evolution from Environmental Education to Education for Sustainable Development
Une représentation graphique de lΆévolution depuis lΆEducation à lΆEnvironnement jusquΆà lΆEducation pour le Développement Durable
A.2. Responsible environmental behaviour
Comportement environnemental responsable
A.3. Constructivism and Environmental Education
Constructivisme et Education à lΆEnvironnement
A.4. The general teaching model
Le modèle dΆenseignement général
Chapter B – Chapitre B
Preamble – Avant propos
B.1. The various educational methods used in Environmental Education and Education for Sustainable Development
Les différentes méthodes éducatives utilisées pour lΆEducation á lΆEnvironnement et lΆEducation pour le Développement Durable
B.2. Choosing the method
Choisir la méthode
B.3. Teaching goals, learner\'s objectives & suggested methods
Objectifs pédagogiques, objectifs des apprenants et méthodes proposées
B.4. The use of a thematic module for building programmes of Education for Sustainable Development
Un module thématique pour lΆélaboration des programmes de lΆEducation pour le Développement Durable
B.5. Cooperative learning & group work
Apprentissage Coopératif et Groupe de Travail
Chapter C – Chapitre C
Preamble – Avant-propos
C.1. Discussion methods
Méthodes de discussion
C.1.1. "Maieutics" & "Tell each other" methods
Méthodes de la "maïeutique" et du "bouche à oreille"
C.1.2. Group discussions
Discussions en groupes
C.1.3. Panel discussions
Discussions-débats
C.1.4. Brainstorming
C.2. Concept mapping
Cartographie conceptuelle
C.3. Bibliographic research
Recherches bibliographiques
C.4. Experiments
Expériences
C.5. Analogies & Models
Analogies et Modèles
C.6. Methods for teaching value-laden issues
Méthodes pour lΆenseignement des questions impliquant les systèmes de valeurs
C.6.1. Values clarification
Clarification des valeurs
C.6.2. Values analysis
Analyse des valeurs
C.6.3. Application of values analysis through Simulation methods
Application de lΆanalyse des valeurs par le biais des méthodes de simulation
C.6.3.a. Case study
Etude de cas
C.6.3.b. Role playing
Jeu de rôle
C.6.3.c. ICT packages, computer simulation games & other games
Kits TIC, jeux de simulation informatique et autres jeux éducatifs
C.7. Surveys
Enquêtes
C.8. Working in the field
Travail sur le terrain
C.8.1. Field teaching
Enseignement sur le terrain
C.8.2. Field research
Recherches sur le terrain
C.9. Educational kits & materials
Kits et matériel pédagogiques
Chapter D – Chapitre D
Preamble – Avant propos
D.1. The problem-solving approach
La résolution de problèmes
D.2. Some important points when carrying out a project
Quelques points essentiels pour mener à bien un projet
D.3. An example activity implemented using different methods
Abreviations – Acronyms
References – Bibliographie
---
Copy of the book in  ENGLISH
This publication was compiled and produced by MIO-ECSDE with the support of:
The Commission of the European Union DG-Environment
The Hellenic Ministry for the Environment, Physical Planning and Public Works
The publication should be cited us
Scoullos M., Malotidi V., "Handbook on methods used in Environmental Education and Education for Sustainable Development", MIO-ECSDE, Athens 2004.
Copyright MIO-ECSDE, 2004
ISBN: 960-88033-1-4